Surprising Reasons to Use a Courier
---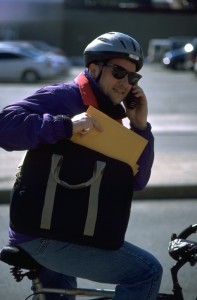 Most people think of couriers as a way to get a document or package to a specific location in a timely manner. This is true and they are there for that purpose but there are many other reasons that a courier could be used in order to free up a person's time.
One way to think of a courier is as a personal assistant. People lead very busy lives and as a result some things either do not get accomplished or they do get accomplished but the person running all of the errands are so run down and ragged they become a person that is beyond stressed and as a result not the most pleasant person to be around. This goes for business professionals and individuals.
What would happen if someone had another person to help them get ready for a business meeting by picking up the food for the meeting, or to go pick up an order from a store like copies or break room supplies, or if a mom had someone else to pick up the birthday cake and take the cake to the place where the party was happening? Think what a relief and load off that would be for all parties involved. That is where a courier comes in.
Not only are they available at a moment's notice they can pick up and drop off anywhere any day of the week including weekends and holidays. Couriers are there for people that just need some extra help when life gets too busy.
Concord Couriers is your courier service in Baton Rouge. Call us today at 1-888-844-0110!
Tags: baton rouge couriers, cheap courier companies, cheapest courier, courier, courier cheap, courier companies, couriers, same day courier services